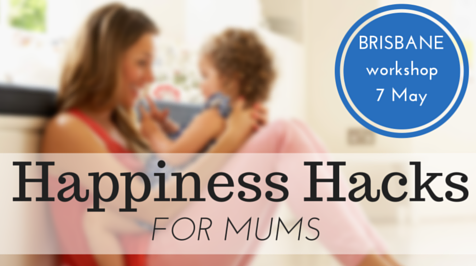 Have you been surprised by both how wonderful and how challenging it is to raise young kids?
Would you like more energy, more time for yourself, a more relaxed atmosphere at home?
When you become a parent your life changes overnight, and then keeps changing as your child grows.
You're left running to catch up and it might be years before you stop to ask yourself how your current lifestyle is working for you and what you could improve.

So I created this workshop to help mums of young children find more energy, joy and balance.
It gives you the chance to pause the parenthood rollercoaster. Deliberately take stock of your habits and discover how you can tweak them to expand your happiness.
You will:
Learn what the latest research tells us about how to boost our happiness.
Hear experiences and tips from other mums who 'get it'.
Translate "I know I should, or I wish I could" into "This is how I can and this is how I will"
Leave with practical, doable actions to create immediate benefits.
Next Brisbane workshop
Sat 7 May, 2016
9am to 12pm
Fortitude Valley venue